The former office bearers and trustees of Tudawe Children Development Center has to be remember on the present success of children home .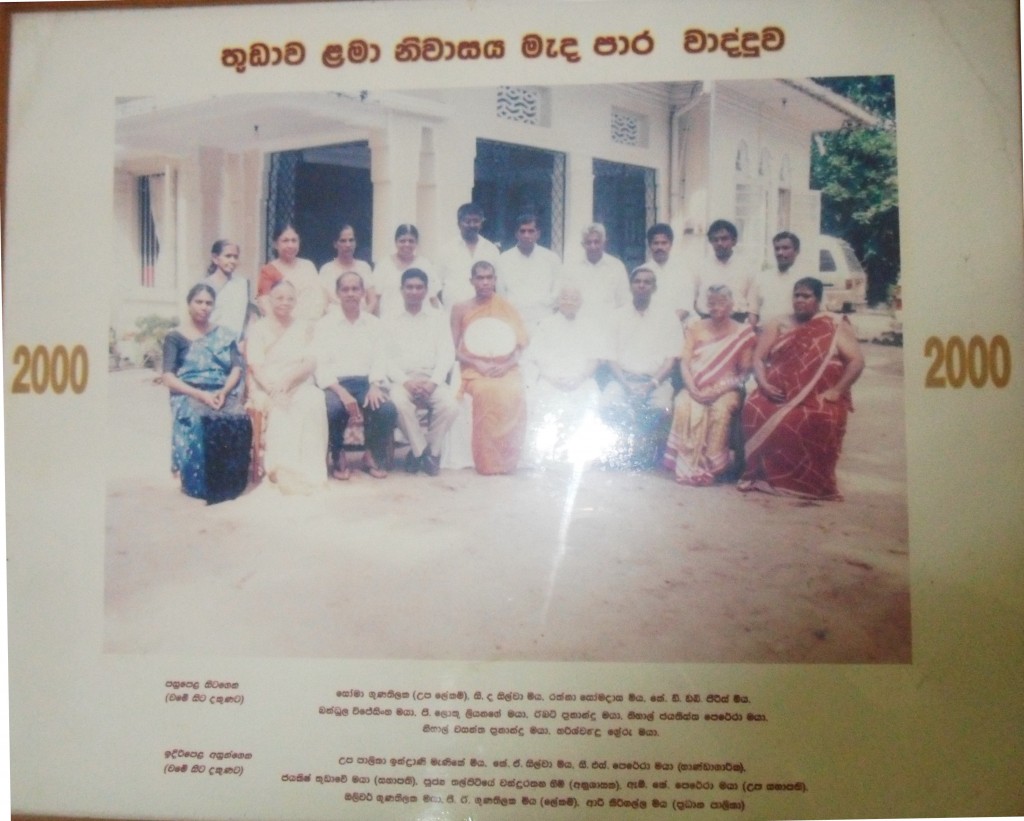 PATRONS
 Ven. Chandrarathna, Viharidikari of Thalpitiya Daladawatta Rajamaha Viharaya

  Jagath Angerge,  the Hon Minister of Health,  Indigenous Medicines  Child Care and Woman Affairs of the Western Province Provincial Council.
PRESIDENT

  Mr. Rohan Tudawe (from 1988-1991)

 Mr.Jayakis Tudawe (from 1991).

VICE PRESIDENTS

  Mr.Jayakis Tudawe (from 1988-1991).

  Mr. Amal Tudawa ( 1992) 

 Mr.M.K Perera ( 1992 )

  Mr. D Soysa (1995)

SECRETARIES

 Mr. Harischandra Grero (1988) 

Mrs G.E. Gunatilleka (1990)

 Mrs Soma Gunatilleka ( 2002) 

  Mr.C.S. Perera (2003) 

  Mr. Oliver Gunatilleka (from 2004)

ASSISTANT SECRETARIES

Mr. Oliver Gunatilleka (1995)

Mrs. Soma Gunatilleka (1998) 

Mrs. Sanjeewa Priyanthi (2002)

TREASURERS

Mr. Lionel Hasthanayaka (1986) 

Mr.C.S. Perera (1996) 

Mr.Nihal Wasantha (from 2003) 

DEPUTY TREASURER

MANAGERS

Mr. Lionel Hasthanayake  (1997) 

Mr.C.S.Perera,(1998) 

Mr.P.Lokuliyana (2002)

AUDITORS

Mrs P. Lokuliyanage( 2005) 

  Mrs.Padmini Thesera (2006) 

 Mr. P Lokuliyanage (2007) 

LIBRARIANS

 Mrs K.A. Silva (2003)

  Mrs Sanjeewa Priyanthi (2003)

CHIEF MATRON

 Mrs.Yasawathi Jayewardene (from 1988)

Mrs. Kirigalla ( 1993.02.11) 

DEPUTY MATRONS

Mrs.Gunawathi Perera

Mrs.Sunitha Hathurusingha

Mrs.Thilakawathie 

Mrs.Devika

Mrs.Nayana Damaayanthi

Mrs.Testlyn De Silva

 Mrs. Nilanthi Priyadarshane